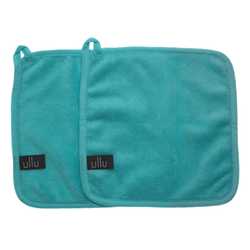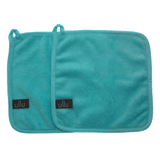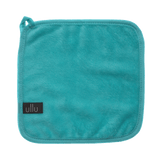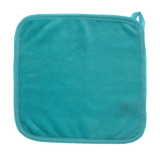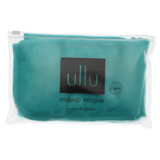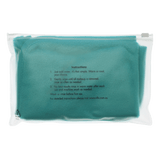 ullu
Makeup Remover 2 pack | Turquoise
Description
Ullu Makeup Remover cloth removes makeup with just water.


No chemicals just WATER. It removes eyeliner, waterproof mascara, foundation, lipstick and so much more! It is reusable and can be washed hundreds of times. You can replace hundreds of single use makeup wipes with just one Ullu Makeup Remover. Non toxic and safe to use. Ullu makeup remover is super soft and gentle on your skin. No need to scrub just wipe gently and makeup magically disappears. Removes makeup, impurities, dirt, oil, facepaint and tint left around your hair line after a colour. It is extremely soft and very flexible making it so easy to clean every part of your face. No more makeup removers or makeup wipes so it is perfect for sensitive skin. Your beauty routine will be so much quicker and easier. There are two sides to the ullu makeup remover cloth, one side is for removing your makeup and the other side with slightly longer fibres (this is the side with the tag) is perfect for exfoliating. Our makeup remove is 24 x 24cm which is the perfect size for your face, not too big and not too small we think it is just right. The cloth is made up of thousands of fibres all hundreds of times thinner than a human hair. These tiny fibres all go to work attracting makeup and impurities to leave your skin feeling naturally beautiful and clean. The ullu makeup remover is packaged in a reusable travel bag.

Directions
Simply wet your ullu Makeup Remover with warm or cold water. Remove makeup with soft, gentle strokes. No need to scrub. Machine wash as often as needed. We recommend having a couple of cloths so you will always have one to use while the other is in the wash.

Care instructions

For best results we recommend washing before the first use. Machine wash hot or cold, NO BLEACH or FABRIC SOFTENER. If you do add fabric softener it is no problem, just rewash without fabric softener. Fabric Softener will clog all of the tiny fibres and stop the cloth working properly. We do not recommend tumble dryers but the makeup remover cloth dries so quickly you will not need a dryer.

Regular Post:
Orders over $60 will be delivered FREE of charge.
Orders under $60 will be delivered for a flat fee of $6.95
Please allow between 1-6 business days for your order to arrive. 
Express Post:
Orders under 3.5kg have the option or being posted express post for a flat fee of $12.95
Please allow between 1-2 days for your order to arrive
Tracking available on all orders
Orders are shipped from our Sydney Warehouse.
Orders are usually dispatched within 24 hours of payment excluding weekends and public holidays.
We use Australia Post to ship all orders
If you require assistance, please contact our customer service team via live chat (link bottom right on every page), phone: 1800 957 179 or email: info@ullu.com.au
We want you to have a great shopping experience with us but understand that ordering online can be tricky. If, for whatever reason, you change your mind and wish to return an item you've purchased, we have a 30 day refund policy. Items can be returned if they are unopened and unused, with all seals and packaging still in place. Please contact customer service for instructions on how to make a change of mind return.
If items are faulty please contact us immediately and we will organise a replacement for you.
Email: info@ullu.com.au
Phone: 1800 957 179
Live Chat: you will find the link at the bottom right of the screen